3 Strategies To Keep You Leak Free During Your Workouts
I remember the first time I leaked when doing a box jumps. It was about 4 years ago at a 7 am group training class. Being hardcore and all #noexcuses back then, I put my all into every single workout. But I was springing a leak with every jump.

This was before I became a pelvic health phenom. So this may surprise you when I tell you this. I thought nothing of it. In fact, I remember thinking, "next time I should wear a pad."
Gasp.
When I became pregnant for the second time, I was left unable to move because of pelvic girdle pain. This is where my fascination with all things pelvic floor began.
The biggest complaint from women who've had babies is they leak when they jump or perform any jarring movements like they would if they were playing soccer or volleyball.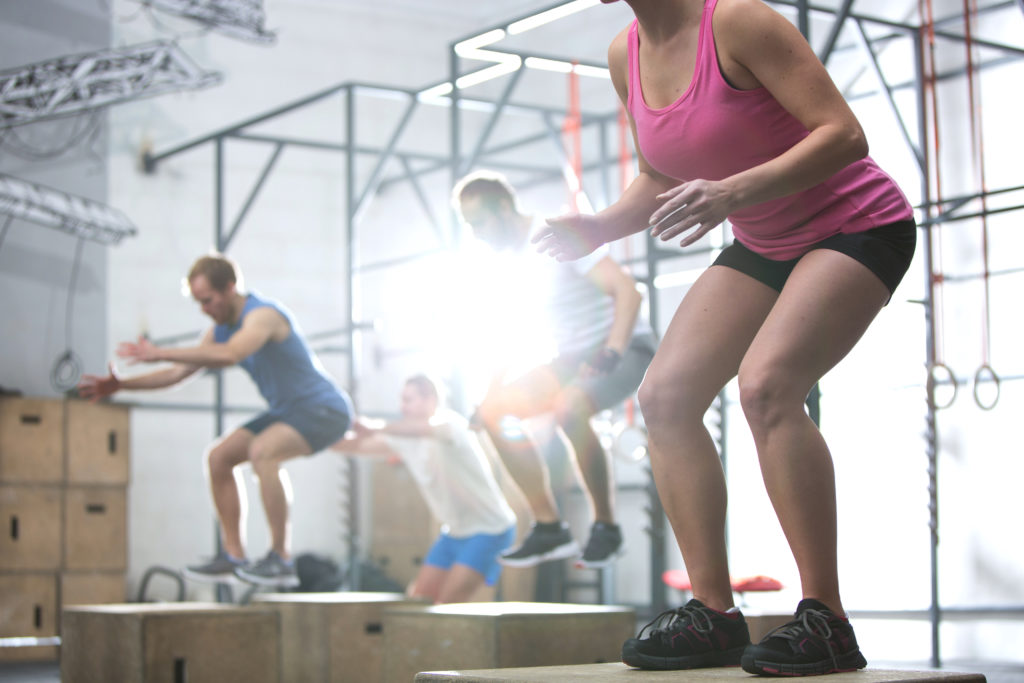 I'm going to geek out on you here. There was one study that looked at the prevalence of stress urinary incontinence in sport and 23% of female athletes that participated experience leaking. Another study showed women who participate in high-impact training are at greater risk of stress incontinence.
Which means, stress urinary is common in women who participate in high-impact sports. You're not alone.
And this can be managed. You don't have to deal with this just because you've had a baby.
You may be wondering how I help postpartum women minimize and manage their symptoms if it's such a common occurrence in women.
This is simple. Like, stupid simple. 
If you're doing a movement and you're experiencing leaking, bulging or pressure in your vagina, or pain, try the movement in a different way. 
I want to be clear when I say pelvic health symptoms don't necessarily mean pelvic floor dysfunction. The only way to know for sure is to get assessed by a pelvic floor PT.
If you're experiencing leaking during your workouts, here are 3 things you can do differently this week.
Check Your Breathing
If you're holding your breath, there may be some extra air known as intraabdominal pressure that is pressing down onto your pelvic floor. So remember to inhale and exhale (blow before you go is a favourite cue made famous by Julie Wiebe).
Check out the video below to learn how Julie Wiebe breaks down how the diaphragm and pelvic floor work together.
Check Your Alignment.
Typically, I see women thrusting their ribs upward so their nipples are pointing to the ceiling. Try aiming for the wall in front of you instead.
Kegel
If you've been giving the go-ahead to do Kegels by your pelvic floor PT, add these along with your exhale. They help to provide a little extra support to your bladder. And you can add them into your lifts too. 
Remember, the tension your going to use in your Kegel is going to depend on how heavy you're lifting. If you're lifting a 200 barbell, you will need quite a bit of tension.
Disclaimer: If you're working with a pelvic health PT and they advise you not to do Kegels due to an overactive pelvic floor, follow their lead. To read more about returning to heavy lifting with pelvic health symptoms or if you're newly postpartum, click here
Leaking is common in the athletic world and is also a common complaint with women who've given birth. But you don't have to spend your workouts running to the bathroom.
Use your pelvic health symptoms as feedback. Change up your strategy with the steps I gave and check out Barbells For Lady Parts, my 12-week online training program for women who have given birth within the last year or learning to manage pelvic health symptoms like stress urinary incontinence and pelvic organ prolapse. Click here to grab Barbells For Lady Parts delivered to your inbox today. 
Ready to maximize your postpartum lifting performance? Get my favourite barbell training strategies in my free Barbell Training For Pregnancy and Postpartum Strategy Guide. You will learn to minimize pelvic floor dysfunctions, and improve lifting power in both pregnancy and postpartum.