Not All Mom and Baby Bootcamps Are Created Equal
Spring is in the air and with it is new fitness goals and bootcamps in the park. Although if you're Canadian, the dream of doing anything outside without snow seems far-fetched. Am I right?
So, I have a question for you. What are your fitness goals for the spring?
For many of you, you may find yourself signing up for group classes to get you moving again. After being cooped up all winter, it will be nice to finally get outside. Oh, to get outside in some sun, I mean.
But I have to bring this up before you sign up for the biggest baddest bootcamp (this includes anything geared to mom and baby too). And this is not all group training classes, coaches or trainers are created equal.
Don't get me wrong, I love group training and what it offers people in general. At 4-months postpartum, I signed myself up at West London CrossFit here in London, Ont.  Group training offers community and new friendships. It offers moms a chance to move and get out of the confines of home. And they offer a lot of fun and sometimes a little competition. Who doesn't want that after being stuck inside after a looooooooong winter?
Now, I'll be honest, I don't offer mom and baby or stroller bootcamps. They're not my thing. I'm not saying they're a not great training option, many are. I'm more than happy to refer you to some trusted ones if that's what you're looking for.
But here is where I get concerned. I see these massive groups of women sprinting, jumping, and doing traditional ab training like crunching for days. Some are pushing strollers and some have their babies strapped to them (wearing your baby as you workout is a safety issue in my opinion).
I've seen many moms who clearly haven't had their alignment addressed who are performing various movements with less than ideal form. This leads me to believe that these moms haven't learned the strategies that prepare for them for the very movements they're being coached. They are just running through the motions.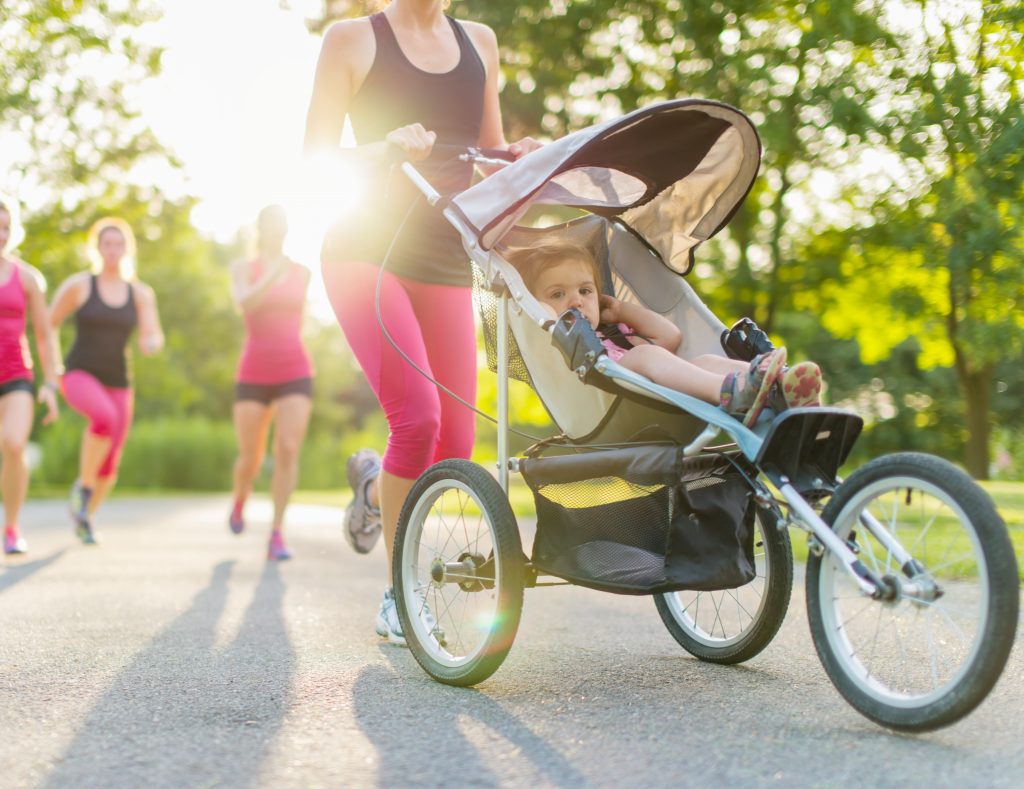 My other concern is how many programs that are geared to women who have recently given birth is their messaging. "Do my super awesome program and get your pre-baby body back" or "how I got my body back and you can too" is just plain awful. It can take up to a year (if not longer) for a mom to completely recover from childbirth. And putting the pressure of weight-loss or body transformation in the most vulnerable time in her life is an ugly practice. Setting up restrictive meal plans and having a new mom record everything she eats into a food log is far from helpful. The first year postpartum isn't the time for restriction and being forced back into shape. Just sayin'.
I've been working exclusively with women since the beginning of my career nearly a decade ago as well as working with prenatal and postnatal women for 4 years. Many women I've worked with have mentioned they participated in these programs because they assumed they were safe. After all, who wouldn't assume that a fitness program that has "stroller" or "mom and baby" in it's same wouldn't be safe?
I know I did when my first baby was born 6-years ago.

I know I did when I was cleared for exercise at 6-weeks postpartum.
I know I did when I was told I could return to my regular fitness program.
I know I did when I had no idea about incontinence, pelvic organ prolapse, or diastasis recti (aka abdominal separation).
I know I did when I was a certified personal trainer working with the general population.
Mommy bootcamps are marketed to all moms. Moms who just got cleared at 6-week and moms who have been postpartum for a year or more. They are even marketed to moms without being aware how a c-section and a noncomplicated vaginal delivery heal differently.
And it doesn't matter how fit you were before pregnancy, your body still needs rest, recovery, and rehab. All postpartum women need to begin a program that supports the recovery process including, alignment, breathing, as well as core and pelvic floor function. Once all of these things are in a good place, then you can include strength and impact like running, jumping, and yes–even crunching.
In my personal journey and coaching experience, getting your ass kicked is never a good healing strategy, especially within the first year postpartum. With sleep being subpar at best, inconsistent energy levels, and the general stress of life with a baby, you may find your body copes with this impact differently (totally normal during this chapter). This may even leave you feeling discouraged.
As I mentioned earlier, I signed up at West London CrossFit at 4-months postpartum. Before I felt comfortable enough to reintroduce that level of impact into my training, I made sure that I took as much time as I need to rehab using
Post-Baby Rehab,
and I got assessed by a pelvic floor physiotherapist. I was all good to go.
Now, I'm going full force either. Before going straight into the classes, I worked with one of their coaches, Shoko (her athleticism is inspiring!) for a couple sessions. It was important to see how my body was able to function so I don't break myself!
Once I entered the general population (hehehehe), I made sure to chat with Lacey (another great coach who has really has my back!), to let her know exactly where I was at. She gives scaled options (and sometimes I scale back, even more, to make the movements manageable and functional for me.) and she comes by to check on me and cues me when I need it. I have never felt pushed to do anything that's beyond my capabilities or out of my comfort zone. Doesn't mean I'm not challenged. Oh, because I am. But I'm also aware of my body's limitations and where I am in the healing process.
After having a baby, it's important to pay attention to what your body is trying to tell you. If something doesn't feel right, you may need to make adjustments or the program you're in may not be the right fit (for now).
I am jumping and running with absolute confidence! I may be a little on the slow side, but this is my body today.
You can have that too.
Get Back Into Your High Impact Training.
Take the first steps in managing your pelvic floor dysfunctions by grabbing your free copy of Post-Baby Fitness Handbook: 5 Steps to Preventing and Overcoming Pelvic floor dysfunctions.
You will learn the ins and outs of core training improve your pelvic floor function, how to optimize your sleep and stress management (yep, sleep and stress have an impact on your pelvic floor, too), and the functional movements you need to build full body strength to maximize your training results.